"I want to believe in peace in 2023"
Yulia Bielokrynytska moved to Seinäjoki from Ukraine with a desire to experience new things. Now, she is the chief shop steward at her workplace, relied on by dozens of fellow employees from foreign backgrounds.
The language barrier can be a dangerous thing.
This is something Yulia Bielokrynytska realised quickly after arriving in Finland. She did not speak Finnish but was fluent in English. That can get you surprisingly far in Finland.
"If you don't speak either of those languages, you can easily find yourself in situations where you're being exploited."
For example, when arriving in Finland, many foreigners are unaware that they do not have to surrender their passport to their employer, or that Finland uses collective labour agreements that specify things like minimum wages and holiday entitlements. Employees who do not know their own rights are easy to cheat.
"I often talk to my co-workers to make sure they know their rights. For example, many of them didn't realise that, if they get sick while on holiday, they can request to have their annual holiday days postponed."
Bielokrynytska moved to Finland four years ago with her boyfriend at the time.The two young adults wanted to try living abroad and had looked into finding jobs in Finland. At first, they found seasonal work at the Seinäjoen Puutarha Oy vegetable company, later staying on as temporary employees and, eventually, permanent employees.
I often talk to my co-workers to make sure they know their rights.
Bielokrynytska discovered her passion for living abroad during upper secondary school, when she spent time as an exchange student in the United States. After completing her bachelor's degree, she decided it was time to explore somewhere new again.
"I wanted to go to Finland, because I enjoy the cold and had heard that it's a very peaceful place. Seinäjoki has met all my expectations: The people here are calm, and I can't get enough of the snow and the landscapes."
MULTINATIONAL WORK COMMUNITY
Bielokrynytska says that work in a greenhouse is very mechanical in nature. The company mostly grows cucumbers, of which it produces almost 5.8 million kilos a year. To grow successfully, greenhouse cucumbers need not only heat, light and moisture but also thinning, ventilation and sufficient support. The job also involves packing produce.
"Along with cleaning, working in a greenhouse is one of the few jobs where you don't really need language skills. As a matter of fact, the team of nearly 60 employees has only a few Finnish speakers."
Ukrainian, Russian, Lithuanian and Romanian are all spoken at Bielokrynytska's workplace, and many employees mostly socialise with others in their own language group. When necessary, everyone is ready to interpret for others to the best of their ability.
"Especially those who come from former Soviet Bloc countries often don't understand English, never mind Finnish. My own language skills are one of the reasons why I joined the union a few years ago."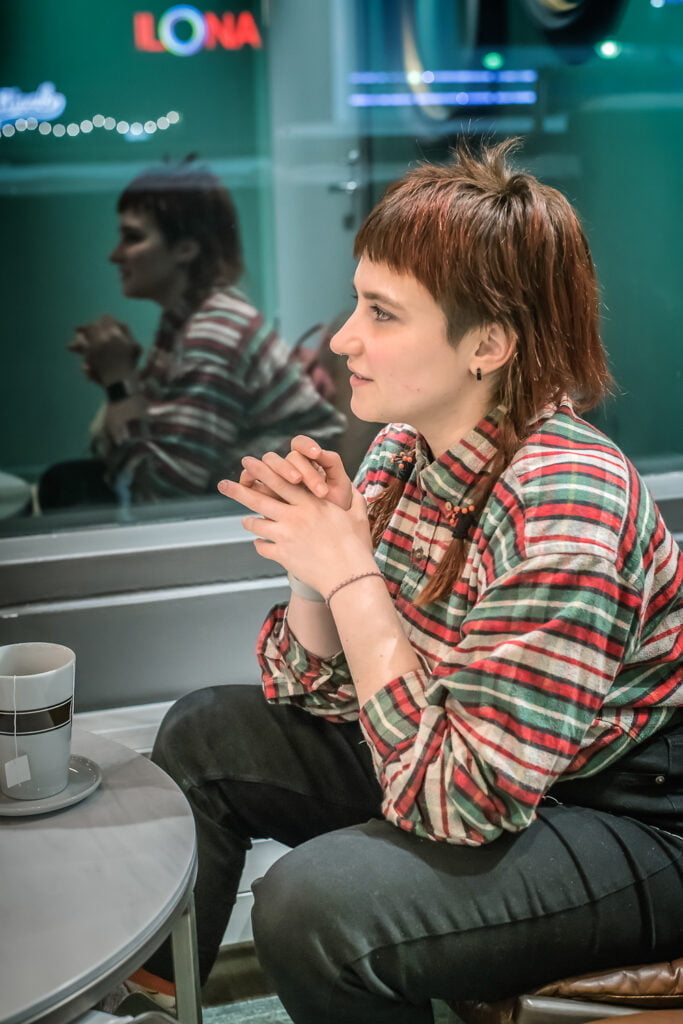 Today, Bielokrynytska is the chief shop steward at her workplace, and her duties include welcoming new employees when they start working. She was also part of the test group for the Industrial Union's Hermes app. The app is specifically designed with industries that rely heavily on seasonal workers in mind, and it offers workers information about the rules and regulations governing Finnish working life, not only in Finnish and Swedish but also English, Russian and Ukrainian.
"I think the app is a huge success, because it gives you a quick way of answering any questions you might have. Employees can even show excerpts to a superior, and the app allows both parties to view it in their own language."
Bielokrynytska only has one criticism: The app has not spread quickly enough to other industries. The cleaning industry, for example, is in serious need of something just like it.
SCHOOLMATES ON THE FRONT LINE
Though she enjoys living in Finland, the 27-year-old Bielokrynytska is ready to return home to Ukraine. She had intended to visit friends and family in her home town of Zaporizhzhia last Easter, but Russia's invasion put a stop to her plans. Due to the war, her mother and two siblings joined her in Seinäjoki in the spring.
"My younger sister has adapted quickly and made new friends, but we're all still hoping to get back to Ukraine soon. I was planning to do my master's degree there and move forward on my career path. I major in Germanic philology, and I think I'd enjoy working as a teacher or an interpreter."
Bielokrynytska says that Zaporizhzhia, which is strategically vital due to the region's energy industry, is currently half free and half occupied. Her family members living in the city centre seem to be safe, but there is concerning news coming from other parts of the city and the rest of the country. Bielokrynytska also knows people on the front line, including a childhood friend and several schoolmates. She uses social media to check on them from Finland.
Bielokrynytska herself is determined to return to Zaporizhzhia as soon as the war is over. It will be soon – keeping faith in that fact is important.
"We will have peace in 2023. Maybe not in the first months of the year, but by the end of it we will be living in peace," she says.
Read more: The Hermes app tells you all about the rules of working life in Finland: www.hermesapp.fi